The rapid rise of technologies such as face recognition and artificial intelligence has brought great changes to people's lives. Today, after a simple replacement of a smart door lock, users can open their own house doors through various methods such as face recognition and fingerprint recognition, and the smart home life scene is also receiving more and more attention from consumers. There are industry reports that at present, China's home smart door lock industry is in the early stage of industrial outbreak. And this momentum has emerged in the market sales, domestic smart lock market began to climax!
Four major advantages to promote the explosive growth of smart locks
No longer need to take the key out, but can directly through fingerprints, passwords, and even unlock the phone, from the root to solve the "key with" troubles; encounter violence, strong technology, you can automatically identify the issue of an alarm, or even a direct alarm; At any time to the nanny, friends, tenants, etc. assigned corresponding fingerprints, passwords and other "keys", can be quickly deleted when not in use, eliminating the trouble of replacing the cylinder; receiving open the door information at any time, to understand the situation of family members, especially to care for the elderly, children provide help……

Different from the general mechanical door locks, opening and management methods are more convenient, and smart home locks create a smart home use scene that makes people feel bright.

In fact, smart door locks have been around for a long time. Before that, they were mostly used in business scenes, such as hotel doors, office buildings, etc. The market has matured. However, with the development of technology and the increase in the demand for smart homes, smart door locks are now favored by more and more home consumers because of their powerful functionality and security, which has ushered in explosive growth.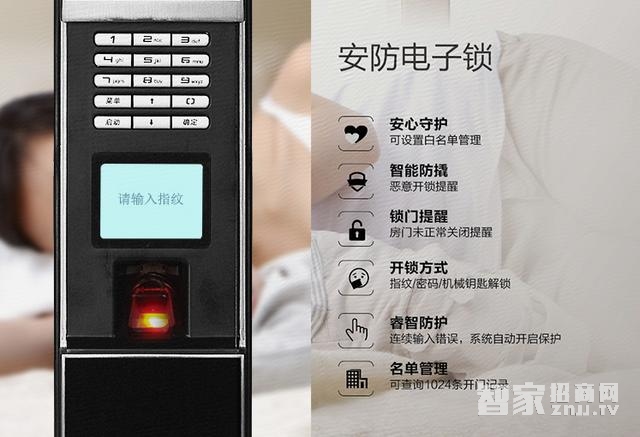 Jingdong 618 data shows that consumers' search for smart door locks has increased significantly. Sales of smart door locks have increased by 510% year-on-year. Among them, Panasonic brand sales in 618 days exceeded that in May, and new products from kaadas K8 pre-sales increased by 480% in June from May.

As the brand with the Jingdong 618 smart door lock sales list, Fang Jieqiong, chief operating officer of Deschmann's e-commerce department, said that the domestic lock market has long been out of the "iron general" era, and the use of locks is changing with each passing day, magnetic cards, fingerprints, passwords, and faces. High-tech technologies such as identification have been continuously upgraded. People are pursuing the security of locks while also paying attention to many elements such as convenience, advancement, and fashion. According to a survey on the physical access control market, over 70% of end users and 80% of industry respondents believe that in the next 3 to 5 years, they would like to replace their mobile phones, key cards, tags, or voucher cards. Traditional door lock.
E-commerce, brand targeting trends together
The extensive application of big data makes it easier for e-commerce platforms and brand owners to grasp consumer trends and respond quickly, which in turn can promote the rapid growth of consumer trends. Among them, smart door locks are a typical case.

According to the person in charge of the Jingdong Mall furniture and building materials department, the sales data of last year has seen the emergence of smart door locks. At the beginning of this year, Jingdong launched an exclusive working group for smart door locks, taking full responsibility for operations and other issues, and many The brand began to deepen cooperation.

Chinese domestic brand cloud cat chose to log in Jingdong financial crowdfunding platform to promote smart door lock business. In the crowdfunding campaign that ended on April 2 this year, Cloud Cat Smart Locks raised a total of 10 million yuan. According to the person in charge of the cloud cat e-commerce company, the quality and function of this successful crowd-raising product itself are internal factors, and the Jingdong platform's advantageous resources are powerful external factors. "Smart door locks are relatively new things, and the Jingdong platform has Strong and high-quality user groups, they have higher requirements for quality consumption, but also have a stronger acceptance of new things." Jingdong's latest financial report shows that as of the end of March this year, Jingdong's annual active users reached 240 million.

Cadiz valued the advantages of the e-commerce platform's resources and operating models. In close cooperation with JD.com, Cadiz launched the new K8, which has been devoted to research and development for many years. K8 touch blind spot fingerprint unlocking method, help to facilitate the use of some people with special needs, and supports remote authorization APP door opening and other functions. According to Chen Hongyu, head of the e-commerce business at the flagship store of Cadillac JD.com, JD.com, as a leading e-commerce company in China, has established a strong logistics distribution network and service system. At the same time, powerful big data capabilities and rapid consumer feedback can promote the brand. It is a rare and high quality partner for Cadiz.

In addition, e-commerce platforms and brand owners are also more willing to work together to resolve industry pain points in the process of digging deeper into the trend category market. As we all know, smart door locks have high professional requirements for installation, Jingdong cooperates with the brand to provide free on-site installation services. At the same time, during this year's 618 period, Jingdong launched a "30-180 insurance" service for smart locks, which means that the brand can cooperate with JD.com to provide consumers with a corresponding return insurance service. During the insurance period, consumers can enjoy the package within 30 days. Retire, only for the repair service within 180 days, completely hit the consumer spending concerns when trying to use the smart door lock, and also accelerated the popularity of smart locks.
2019 domestic smart door lock sales will exceed 32 million sets
With the continuous development of the urbanization of the country and the continuous improvement of the living environment, the concept of smart home is gradually gaining popularity. The demand of home users for intelligent door locks will continue to increase, and the market will have a period of great development.

The "China Smart Lock White Paper 2017" released by the Analysys think tank recently stated that the favorable factors such as technological development and consumption upgrade will promote the rapid development and penetration of the Chinese smart home industry, and the loopholes in the concept of user consumption change and the traditional security products The demand of users for security products has been continuously improved. Among them, smart door locks have become entry-level products for smart homes. Cameras, door locks, detectors, and alarms have formed a relatively complete security system to provide a more secure and efficient three-dimensional security system.

China Smart Door Lock White Paper 2017 points out that the current penetration rate of domestic smart locks is still relatively low, and there is huge room for future development. At present, the market share of smart door locks in China is less than 3%, compared with 50% in Europe and the United States, and 80% in Japan and South Korea. According to forecast, the sales volume of domestic smart door lock market will maintain about 100% from 2017 to 2019. By 2019, the sales volume of smart door locks in China will exceed 32 million units.

WIFI Smart Lock (http://zns.znjj.tv)-Professional smart lock agent joining website, providing the industry's most comprehensive intelligent fingerprint password lock joining agent, smart lock product library, smart door lock price, smart lock brand , smart lock manufacturers Daquan information, welcome to browse online consulting.

Alloy Steel Boiler Tube,High Temperature Boiler Tube,Spiral High Temperature Boiler Tube,Steel Boiler Tube

YUHONG GROUP CO.,LIMITED , https://www.jessro-pipefittings.com