In the 21st century of intelligent and vigorous development, the premise of intelligence, happiness and wealth is security. From ancient times to the present, the security issue has always been a permanent problem for the people. Forgetting the "sadness" with the key, people often experience it and often worry about it. The advent of fingerprint password lock perfectly solved this series of problems. Foshan Sige Lock Industry Technology Co., Ltd. newly developed A080 fingerprint password lock, C120 fingerprint induction password lock, A160 luxury antique fingerprint lock, R050 remote fingerprint lock, etc. The product has nine functional advantages over similar products, and is called "all-round lock" and "king of smart lock".

Fingerprint lock is a symbol of scientific and technological progress, and it is also one of the benchmarks for people's security awareness. With the development of the times, with the rapid advancement of the national "five-fifth plan" and "urbanization" strategies, more and more consumers are not only required to be safe, practical and durable, but also require fashion, Innovative and other elements to adapt to the market of young consumer groups. As an advanced enterprise specializing in R&D, manufacturing and sales of intelligent locks, Foshan Sige Lock Industry Technology Co., Ltd. is deeply aware of this trend; newly developed A080 fingerprint password lock, C120 fingerprint induction password lock, A160 luxury antique fingerprint lock, R050 remote control Four products, such as fingerprint lock, in terms of appearance, these four products each have their own characteristics and the advantages of "new, strange, special"; in terms of function, it can be called the model of the industry's cost performance. It is worth mentioning that these four products each have 9 core advantages, not only can achieve the external beauty, but also achieve the inherent all-round advantages, have to be applauded.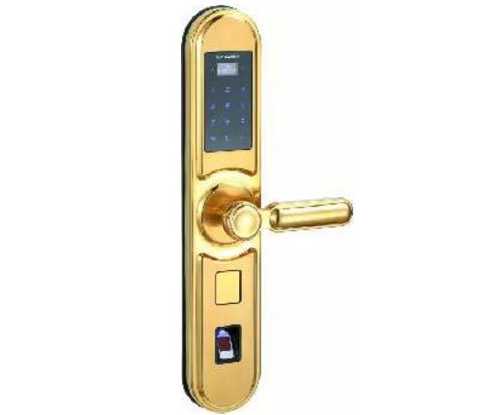 [A080 fingerprint password lock: the high-end atmosphere of "everyone show"]

As we all know, the fingerprint lock is the lock with the highest technology content, the highest safety factor and the highest style. The lock-making enterprise can grasp the core technical advantages and have market competitiveness. As the leading intelligent lock manufacturer in the industry, SiGe Lock has more than 50 invention patents, and has core technologies such as fingerprint algorithm, optical acquisition system and induction technology source code. From the product point of view, A080 fingerprint password lock this product is simple, atmospheric, stylish, revealing a "everyone's temperament temperament." That's right, this A080 product is designed with a patented design. The same appearance can be configured as a fingerprint password lock, a sensor lock, a four-in-one lock, a remote control fingerprint lock, and more importantly, it uses a reliable and secure double-fast anti-theft. The fireproof lock body is embedded with the bank professional Swedish FPC1101F acquisition head design, adaptive fingerprint core algorithm, anti-peep pseudo-password input method, spare locker with blade structure, Micro_USB interface and so on. In addition, this product's fingerprint, password, user ID number are hierarchically privileged management, making users more convenient, safe and secure.
[C120 fingerprint sensing password lock: super experience, enjoy life]

Compared with the A080 fingerprint password lock, everyone's C120 fingerprint-sensing password lock is more "xiaojiabiyu". C120 uses a high-strength zinc alloy panel, which is classified as "the king of smart locks" by the industry, and has "nine core advantages and three conveniences". The core hardware of the product adopts the TI chip, the patented dark background design of the acquisition head, and the advanced fingerprint algorithm with learning function. The scheme is mature and reliable. The lock body is designed with Class A fire protection standard, and the key core components are made of 304 precision cast stainless steel. Among them, the most significant advantage is that the C120 adopts slide design and low power consumption design, and adopts the patented gearbox type deceleration clutch mechanism, which makes the product have large thrust, long service life and good reliability.

Everyone loves smart locks. It is easy to use, it is easy to use, practical, safe and reliable. C120 fingerprint sensor lock is equipped with 1 standard opening, 2 lines, 3 positioning posts, as long as you can follow the instructions, you can Easily complete the installation process. The C120's full-range OLED LCD display operation, fingerprint opening, double-fast lock body, low-pressure alarm and other use and maintenance design make you feel comfortable using it, so that you can fall in love with it!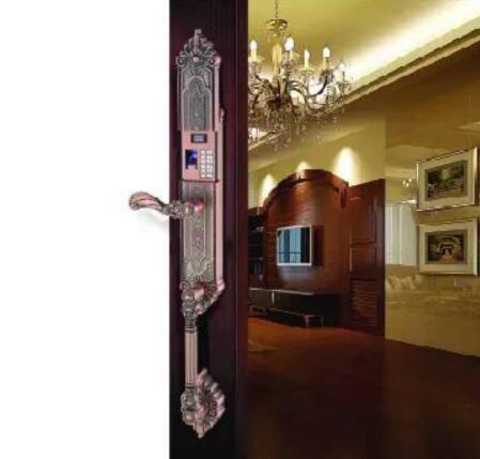 [A160 luxury antique fingerprint lock: luxury products, selected quality]

The A160 Deluxe Antique Fingerprint Lock is a product that you will be amazed at first glance. It can show you the mystery of "Crossing Time and Space", allowing you to enjoy luxurious privileges in a luxurious palace. To be honest, this is just the surface of it. It is also a selection of products with great connotations. It also has "nine core advantages and three conveniences". Since the launch of the A160, it has caused a heated discussion and has been fiercely rushed by many consumers. In a word, it is a quality product suitable for high-end residential areas, villas, apartments, offices, etc., and has established an indestructible security line for your home life.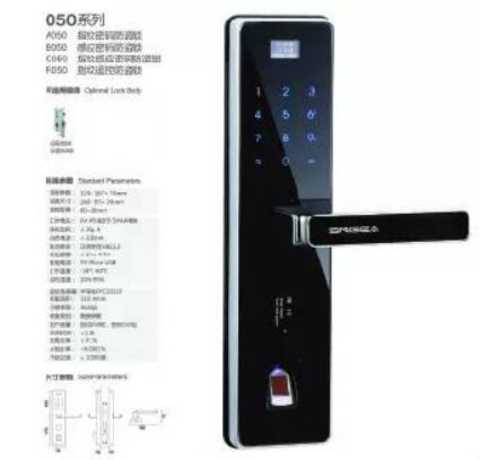 [ R050 remote control fingerprint lock: will be intelligent to the end]

Compared with A080, C120 and A160, R050 remote control fingerprint lock is an all-round product that is determined to be intelligent and convenient. It uses TI chip, bank-level Swedish FPC1101 semiconductor collector, standard size double fast anti-theft fire lock body, patented gear box type deceleration clutch mechanism, anti-peep pseudo-password input method, blade structure lock, etc., let you enjoy unexpected Smart experience.

As the leading brand of fingerprint locks, SiGe Lock Industry's fingerprint lock security and rock-solid quality are unanimously praised by people inside and outside the industry, and it is also the smart lock brand of choice for consumers. In April 2015, Sige Lock Industry was awarded the "National Quality Inspection and Qualified Product" certificate issued by China Quality Inspection Association and the "National Quality and Credit Excellent Enterprise" certificate. In the future, Si Ge Lock Industry insists on being a "home security butler" for thousands of consumers, so that consumers can enjoy worry-free life!

Editor in charge: Zhang Qiqi

Pesticide intermediate

Pesticide Intermediates products produced by the processing of agricultural raw materials are intermediate media that combine two or more than two substances. In pesticide, it can be understood as synergist, and it is an intermediate material for pesticide production.

Also known as Organic Intermediates. Coal tar or petroleum products are used as raw materials to produce dyes, pesticides, pharmaceuticals, resins, auxiliaries, plasticizers and other intermediates. Originally used in the manufacture of dyes, also known as dye intermediates.

At first, Pesticide intermediates products produced by using coal tar or petroleum products as raw materials to synthesize chemical products such as spices, dyes, resins, drugs, plasticizers, rubber accelerators and so on. Now it refers to various intermediates produced in organic synthesis.

Pesticide intermediates refer to semi-finished products, which are intermediate products of certain products, such as the production of a product that can be produced from intermediates and cost savings. Drug production needs a large number of special chemicals. Most of these chemicals were originally produced by the pharmaceutical industry, but with the deepening of the social division of labor and the progress of production technology, some Pharmaceutical Intermediates were transferred to the chemical enterprises. Pharmaceutical intermediates belong to fine chemical products, and pharmaceutical intermediates have become a major industry in the international chemical industry.

Pesticide Intermediates

Pesticide Intermediates,Intermediate Of Pesticide,Pesticide Imidacloprid Intermediates,Agrochemicals Pesticides Intermediates

Shenyu Energy (Shandong) Development Co. Ltd , https://www.zgshenyu.com